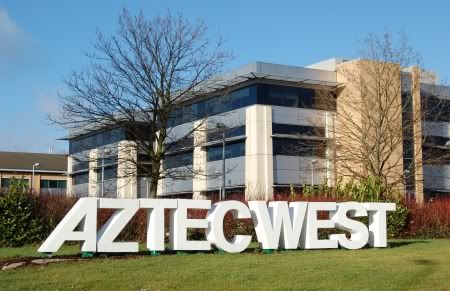 It comes as part of the bank's Strategic Business Review - announced in September 2010 - which earmarked the closure of 12 other centres across the UK and an estimated 3500 job losses.
Trade union Unite has urged the RBS to reconsider its decision to "prevent the devastation this will cause the local community".
Some 440 staff in the Aztec west centre work in back office operations and telephone services.
Unite national officer, David Fleming, said: "Unite has expressed to RBS its frustration about the bank's decision to close its site in Bristol and also make another 440 staff cuts from its customer support operations.
"The Aztec west site is the second site closure announced by RBS in the South West, as the Plymouth site is also closing. Today, staff learn the reality of what this means for them and their families.
"RBS must reconsider the closure of the Bristol site and find alternative employment to prevent the devastation that this will cause the local community."
Employee support
However, RBS has insisted it will do its utmost "to support our employees, offer redeployment opportunities wherever possible and to keep compulsory redundancies to an absolute minimum".
In a statement it explained: "We announced last year that we would be reducing the number of centres we operate from, and that regrettably this would lead to job losses.
"We identified the sites that would close over the next two years and committed to giving our employees 12 months' notice of the closures. Having to cut jobs is the most difficult part of our work to rebuild RBS."
By Andy Pearce