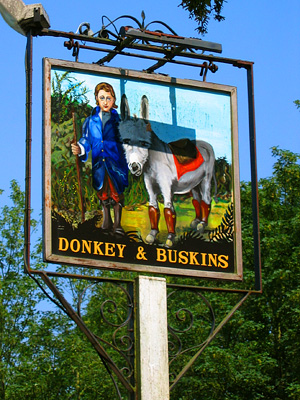 Waveney Pub Company – whose administration will be jointly handled by Adam Clarke and David Whitehead – was forced to make 14 of its 23 staff redundant.
The King's Head, in Suffolk, and The Donkey and Buskins (pictured), in Essex, have both closed.
Cash flow difficulties, tough trading conditions and pressure from creditors were blamed for the company's struggles.
However, The Tavern, in Essex, has managed to remain open and is trading as normal.
It comes after the latest statistics revealed licensed traders are still facing a harsh business climate.
According to the Insolvency Service (IS), the number of licensed traders falling into administration grew by more than 25 per cent between the second and third quarters this year.
And the number of pub and bar operators going into administration more than doubled from six to 13.
Across the industry, excluding hotels, administrations rose from 23 in the second quarter this year to 31.
In comparison, there were some 27 administrations in October 2010 Compulsory liquidations in the industry also hit 68 compared to 44 in the previous quarter.
By Andy Pearce